Design is founded on more than just functionality. At its very core, design is rhetoric. From its beginnings as the artful speeches of ancient Greeks, rhetoric has evolved into the ability to express ideas through multiple mediums of design. Tonight, Design Week Portland hosts several events around town that use various forms of design to communicate with the Rose City.
See how artist Kate Bingaman-Burt forgoes the high-fidelity romance of mix tapes to use the medium to communicate her thoughts on money, objects, and emotions. The open house exhibit, More More More, at Liquid Space (910 NW Hoyt) in the Pearl District, is a free event that lasts from 4 to 7 p.m. The show gives attendees a chance to speak with Bingaman-Burt and purchase prints of her work. Each purchase comes with a mix tape curated by the artist.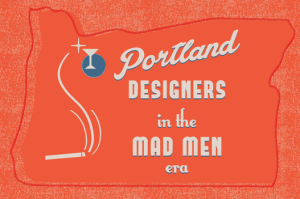 Later in the evening, take a more intimate look at the work—rather than the sex lives—of Portland's real-life Don Drapers in Portland Designers in the Mad Men Era. Browse displays featuring old sketchbooks, pamphlets, illustrations, and comics of Mad Men-era Portland designers in advertising. The collection provides an intimate look at the local men who transformed the field of ad and graphic design during the 1960s. Come to the PNCA Commons (1241 NW Johnson) at 7 p.m. to listen to speakers Byron Ferris, Bennet Norrbo, and Charles Politz before partaking in the question and answer session for only $10. As an added bonus, from those who know how to please consumers, there will be beer, wine and snacks available.
The Pearl District hosts several Portland writers, including Sarah Mirk of Bitch Media and Carl Alviani of Ziba Design, tonight at the Ziba Auditioruim (810 NW Marshall). Listen as they wax poetic on the urban landscape of the city during Portland Writers on Design: Urban Movement. This free event starting at 6:30 p.m. allows five writers to share their unique views of their time spent roaming Portland's cityscape.
— Rachael Lesley
Above, promotional image for Kate Bingaman-Burt's show More More More.