"Immigrant Union is a band with uncompromising appeal on the brink of international recognition and admiration," asserts Jef Krohn, Music Editor at PDX Magazine. Led by Portland's own Brent DeBoer, of the Dandy Warhols, Immigrant Union rolls into town on psychedelic waves to perform the final show of their North American tour at Mississippi Studios (3939 N. Mississippi Ave.) Thursday, Nov. 6 at 8 p.m. The Melbourne, Australia-based band released their second full length album, Anyway, in September. "The show is a rare opportunity to see this Aussie outfit in an up close and intimate setting before they hit the coliseums and amphitheaters around the world. Not to mention it's Mississippi Studios, arguably one of the best-sounding venues in Portland."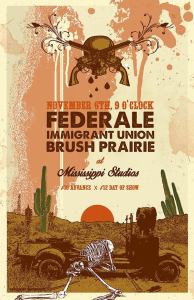 Presented by PDX Magazine, Immigrant Union opens for Spaghetti Western-inspired local band Federale. The headliner's conceptual tunes, best described as a tumbleweed of western soundscapes, takes listeners through a musical tracking of opening credits, stampedes, fast-draws, and a ride into the sunset. Federale is half the brain-child of Collin Hegna, the neo-psychedelic bass player of The Brian Jonestown Massacre.
In addition, classic country crooners Brush Prairie—featuring Zia McCabe, also of the Dandy Warhols—are booked to open. Expect classic covers from outlaw country's greatest performers. Tickets cost $10 in advance, $12 day of the show, and are selling fast.
– Rachael Lesley
Feature photo courtesy of band's official website.