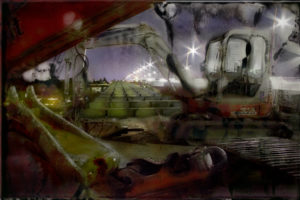 "Counterpoint" by Jon Gottshall
Gallery 114, 1100 NW Glisan
August 4-27, 2016
Opens Thursday, August 4th, with pre-opening artist's talk Wednesday, August 3rd, from 7-9 pm
The exhibit also features Megan Paetzhold's multi-medua installation "Studies in: Amblyopia" in the south gallery
… More…








Join our mailing list
Send a little something our way
We're an all-volunteer organization, dedicated to celebrating the creative life in Portland, OR. Send a few bucks our way to help us cover expenses and keep up the good fight. Everything we receive goes back into the magazine and our events. We sincerely thank you for your support. — Ross Blanchard, Editor-in-chief.
From the PDX Magazine Facebook Page
I'd get out before the weekend if I were you……..
AFRU Gallery AFRU Gallery is here to bring the edge-er art out of the closet.