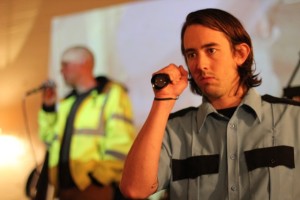 By Ross Blanchard
Photo by Reuben Broadfoot. Foreground: Corey O'Hara. Background: Evan Corcoran
A few weeks ago at a Ford Gallery event in Southeast Portland, five actors slipped into the venue, seized the microphone from the event's host during a presentation, and began to shout … More…








Join our mailing list
Send a little something our way
We're an all-volunteer organization, dedicated to celebrating the creative life in Portland, OR. Send a few bucks our way to help us cover expenses and keep up the good fight. Everything we receive goes back into the magazine and our events. We sincerely thank you for your support. — Ross Blanchard, Editor-in-chief.
From the PDX Magazine Facebook Page
Photos from the PDX Magazine/ Ford Gallery Olinka Broadfoot opening night salon at Mechanical. With the Liminal troupe and poet Dan Raphael Photos..