by Ross Blanchard
This month we're adding cartoons to the PDX Magazine line-up. This often over-looked genre blends literature and art, and its subject matter slapstick to heartbreak. Comics vary in length from single-panel cartoons to full-length novels to serials with ever-continuing story lines.
On the next few pages, you'll find excerpts from
and
Crawdads Welcome, two Portland-based publications available at local comic book shops and online.
Ezra Butt, Crawdads Welcome
Ezra Butt is a 26-year-old Portland-born cartoonist currently living in Phoenix, Oregon, near Ashland. He has self-published three collections of cartoons titled Crawdads Welcome.
"While I would describe myself as a cartoonist," Butt says, "all of my work is fueled by an intense love for 18th and 19th century Naturalist artists. Beyond that, animals and plants inspire me more than any human artist I could name."

The naturalist influences on Crawdads is evident in Butt's intricate illustrations, which have a level of detail more comparable to an Audubon or a Charles D'Orbigny print than to the typical comic strip.

Crawdads characters are collection of flora and fauna who discuss love, current events, politics, and whatever else is spurred by Butt's imagination. Tigers and peacocks live together in harmony in the jungle. Mushrooms talk about relationships with one another. Dinosaurs stroll along Victorian-era streets, shopping. These juxtapositions, nonsensical to begin with, become more absurd when Butt adds his layer of humorous dialog to them.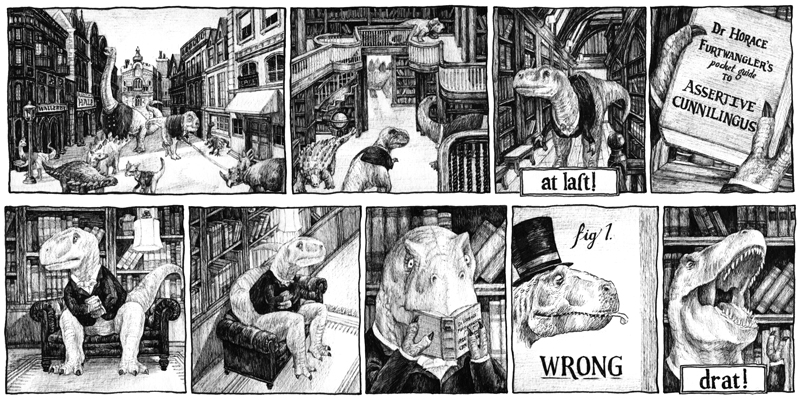 "As a cartoonist, my work continually is a mixture of absurdism and a love for lowest common denominator humor. My frat-boy humor is already at odds with my style of drawing, and a good deal of my writing is simply an attempt to layer additional levels of incongruity to make the most outrageous material manageable," Butt explains. "Let's throw in a healthy love of typography and lettering for good measure."
Butt's typography is an artifact in itself and is one of the first things one notices about Crawdads. He keeps a reference book of all the lettering he's designed to maintain consistency in the meticulously drawn text.
Next on Butt's list is a departure from the Crawdads Welcome series. He's at work on a full-length book of cartoons focused on the Piglet character from A.A. Milne's Winnie the Pooh books. These and the Crawdads Welcome cartoons are on Butt's Tumblr site, www.CrawdadsWelcome.tumblr.com.
Pete Soloway and Jacob Mercy, Pizza Gun
Pizza Gun is a full-color comic by artist Pete Soloway and writer Jacob Mercy. Mercy and Soloway's cartoons cover a very broad array of topics and styles: The family dog dreams of being president, while the family cat dreams of assassinating him; Pac-Man feels remorseful about his binge eating; a widow's husband returns to her as a ghost to flaunt his new hot ghost girlfriend; a left-handed Jesus has to rethink his sermons; Dracula falls in love with a hemophiliac; battling knights argue over whether they're characters in a "high" or "low" fantasy comic.
Most of the cartoons are singular instances with no recurring characters; while others such as the "Office Raccoon" series, in which employees struggle with a ruthless and aggressive raccoon, explore recurring characters in an on-going theme.
Mercy writes the scripts for the comics, which the two pare down together, then Soloway illustrates the stories. The result is a mix of absurdist humor and clever pokes at pop culture.
"What works for Pizza Gun is our friendship," Soloway says about their collaboration. "This is ultimately a comic about friendship."
Mercy and Soloway met by chance in 2008 and began collaborating almost immediately. They published their first issue of Pizza Gun in 2012 and expect to release the second issue this spring.
Humor is central to Pizza Gun, explains Soloway, and the two are trying to revive what they see as a dwindling sub-genre. "I don't want to say that humor comics are dead," says Soloway, "but they've become less central [to the genre]. Things like Mad magazine have fallen by the wayside, so we're going back to that stuff and celebrating it."
Pizza Gun is available in print at local comic book shops as well as online, along with digital versions of the cartoons, at www.PizzaGun.com.