By Jef Krohn
Photos by Amy Bain
Rick Bain and the Genius Position have been missing for nearly a decade. Bain made a name for himself in the local music scene in 1997 with his ambitious yet amazingly low-tech four-track reprisal of the Beach Boys' renowned album, Pet Sounds. In 2000 he started the Genius Position and released Crooked Autumn Sun. With heavily melodic and hypnotic songs such as "I wanna die" and "Orlando," which just keep echoing in your mind, never leaving your subconscious, he created an album that even the most harshest of critics adamantly admired—and still do. Famed Anton Newcombe of Brian Jonestown Massacre was quoted as saying it is the one album he wish he had made.
Fast-forward to 2004: the Genius Position released yet another critically acclaimed work of ear art called Virtual Heavy Pet. With more of the same intensely colorful and driving beats, accompanied by magnetic melodies that seem to put the listener in a psychedelic trance, he made another whopping splash in the PDX music scene. With songs that pierce the quiet in waves of unrelenting rhythm and moonscape sounds, such as "Black Apple Orchard" and "Amy Jane," Bain was hot, he was on a roll, he was set to lead this town in a psychedelic renaissance.
Then he disappeared.
No promo tour, no press, no big record deals or music videos. No feature on Cribs, no Rolling Stone interviews, no music award show appearances. None of the things everyone was expecting to happen actually happened. Inexplicably and without warning he vanished. Little is known of what happened next. As other bands like the Shins and the Dandy Warhols rose up to take the tie-dye ball and run with it, receiving fame and recognition, Bain was eerily silent. There were no real answers, and for nine long years no one knew where the legendary Rick Bain was or what he was up to…until now (Dun, dun, dunnn…!).
PDX Magazine was able to track down the elusive Rick Bain and sit down with him at a local hot spot, the Nest, for a few frothy IPAs and an exclusive interview.
"So, Rick," I ask, "our readers would like to know where the hell have you been."
"Raising kids, doing pottery, and puzzles," Rick says.
"Puzzles?"
"Yeah, a lot of them." Rick pulls out his phone and shows me a picture of his cat sitting on a partially bordered puzzle which could eventually be a Thomas Kinkade-style landscape.
"I see. Very nice. What about the pottery?"
"Been making pottery and selling it at the Saturday Market," he replies. "But I have since decided that my creative focus needs to be my music. My time is better spent writing songs and creating sounds rather than making and selling pottery."
By this time the first round of beers had been drained and the second serving had just arrived. I take the interruption as an excuse to change the subject and ask the question we've all been wanting to ask.
"So why did you leave the music scene to begin with?"
With a quick shrug of the shoulders, Rick responds with "I wanted to focus on raising my family. I have two kids that need a dad, and a wife that needs a husband."
"So why now the comeback?" I ask with a hint of skepticism. "Your kids are still young, I'm sure there's more pottery to be made, and Lord knows there's a ton of puzzles out there that need assembly."
Rick laughs. "Well, I quit making pottery because I found that it was too time consuming. Being an electrician, I could make the same money but I could be done when it's quitting time. I wanted to get back to focusing on music, making art, because that is what I feel I was meant to do."
Come to find out, Rick had traded in his pottery booth at the Saturday Market for a job as a Low Voltage Electrician, a job where he could make decent money and have normal hours that would allow him to focus on family and music in the evenings and weekends. It also makes sense that Rick Bain, like many of us, came to struggle with the common pull between work and family. He chose a career path that was less demanding of his time so that he could better spend it at home. But I know there was a deeper issue at hand, and with the third round of bubbly brew now on the table, I feel it's the perfect time to change the subject.
"Was there any hostility, with Deboer leaving the Genius Position to join the Dandy Warhols?"
I had to ask, since there are rumors of rancor between Bain and former drummer Brent Deboer, leading to Bain's walking away from the music scene in disgust and anguish.
"Sure," Rick says frankly with a slight shrug. "There's always going to be tension in a situation like that. But the short version of the story is Courtney [Taylor, the Dandy Warhols' singer and co-founder] took my drummer [Deboer], and then I took his girlfriend, is kind of what happened. [As for Deboer], I got it all out when I wrote the song 'New Hole' [soon to be released]…which I apologized later to Brent for writing, so now we're totally cool."
"Well, it's cool that there are no more hard feelings. But 'New Hole,' when are we going to get to hear that one?" I ask.
"It will be on my new album that's still looking for a label… So if you know of any labels looking to pick up a new artist, let them know I've got an entire full length LP in the hopper, ready to go. But it goes like: 'Pick all you want at your new hole, leave me for someone with bread. I hope you get fat and lazy on a sea of mothballs that lies ahead.' Stuff like that, you know… It goes, 'You've quickly taken credit for things that aren't yours… I hope…' Oh, fuck, I forget the lyrics, but I'll send them to you." (See side panel.)
"And despite the lyrics in your new song,  Brent's leaving the band had nothing to do with your leaving music?"
"Naw," Rick says. "Brent's leaving was a bummer, but the original band members kept dropping like flies back then."
This reminds me of another rumor: that Bain wasn't out of the music scene; rather, that he was just revamping his brand by dropping the name Genius Position, and the band, to release a new album as a solo act. But no such album ever graced the shelves of our music stores.
"Without all the original band members anymore, is that why you dropped the 'Genius Position' title for a while?"
"Yeah," Rick says without hesitation, "but now I feel like I have that tight unit back. Plus, I just like the sound of it. The Genius Position is kind of a state of mind, allowing art to happen. So I changed it back. We've got all new band members, including Byron Lee [band manager and organist], Dave Koenig [former bassist for Brian Jonestown Massacre and former guitarist for Spin Drift], Russell Ayers [drummer], and my wife [Amy Jane] is on the bass right now."
It seems that Bain, along with his desire to be a family man, did have other reasons for leaving the PDX music scene, but now he has even better reasons for a return. As he was confronting the demons of his past, he was also writing music, and a lot of it.
"So tell us, what art have you been working on? What's in store for us?"
"Well, let's see…" Rick takes a sip of his beer, sets it down, and starts counting on his fingers. "Besides the complete album in the hopper looking for the right label, I'm in the middle of shooting a documentary about my first album [Crooked Autumn Sun]; I've got a 10-inch about to be released by Anton Newcombe's label; a digital release of an EP I made years ago and forgot about…and I have a New Year's show coming up.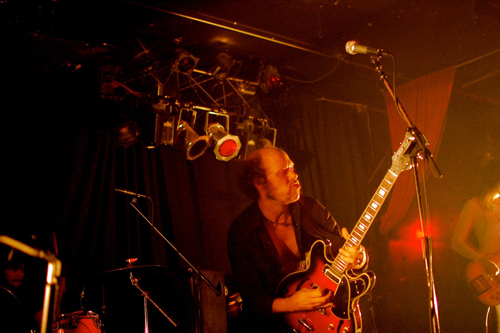 "Wow, that's a lot of new stuff! Let's start with this documentary."
"Yeah, it's being made by a couple of fans, Stephanie Neal and Lindsey Feathers. They're teaming up with Ben Garvey [Productions] to put it together. It will be about the making and meaning of Crooked Autumn Sun—which is still relevant for some reason. It's supposed to be artistic, not just your normal documentary; it should be weird, really. I mean, I hate the word 'psychedelic,' so I'll just say it will be more like doing mushrooms then doing acid."
"Sounds awesome, can't wait to see it. When will that hit the stands?"
"We're shooting for March of 2014."
"Now, what about the 10-inch? By the way," I ask, under my breath, "what is a 10-inch?"
"It's like a seven-inch only longer." Rick grins.
"Ah. Thanks."
"Sure." He laughs. "I had to ask the same question. I guess it's like four or five songs instead of two or three."
"Gotcha. So when's that coming out, and how can we get our hands on it?"
"It will most likely hit iTunes around spring. It's up to Anton [Newcombe]—he's producing it on his label. I'm almost finished with it…was working on it last night with Anton, as a matter of fact. But it will be up to Anton when he releases it, and how."
"Okay, well, what about the digital EP? Did you say you forgot about it? How do you forget about an entire EP?"
Laughing, Rick says, "Well, you know, I didn't lose it, it was always there. I guess I just didn't think I'd do anything with it, so I just forgot about it. Then as I was going through some old files and cleaning out some junk, I ran across it and was like, oh yeah! I listened to it and still liked it, so I thought I'd put it out there."
"And when will we see it?"
"That will be Valentine's Day," Rick says.
So, after nearly a decade of silence, the psychedelic sounds of Rick Bain and the Genius Position are set to unleash what is sure to be an epic wave of new releases. There will be new heart-pounding rhythmic melodies, translucent new colors, and mind-altering new images as the Genius Position makes one of the greatest comebacks the PDX music scene has ever seen,something many would say is long overdue.
"That's a lot of releases in a fairly short period of time! Got any shows coming up to promote them?"
"We'll be playing Kelly's Olympian on New Year's Eve with the Purrs from Seattle, a great live band. Other than that, we book about a month in advance, so keep checking in with us on Facebook and Twitter for new show announcements."
"Awesome. Well, thank you for your time, and welcome back!"
Rick smiles, takes one last chug, and with a nod of his cap, says, "Thanks."
Keep checking in with us here and on our Facebook page for show announcements, album releases, and updates, as Rick Bain unleashes his assault of musical art on us all.