A 40-foot geodesic dome appeared in Portland's Director Park this week. It, and several sculptures by local and national artists that surround the dome, comprise Exhibit: Growth, an experiential art installation commissioned by Umpqua Bank. The exhibit aims to demonstrate the power and beauty of a collective experience by taking visitors on a journey of personal discovery.
"This project began with a simple question: what does it take to have a conversation about money?" says Eve Callahan, a senior vice president at the bank who heads Umpqua's Corporate Communications department. Callahan explains that since the mid-1990s, when Umpqua began to introduce its bank branches as community hubs, the company has tried to surmount the taboo of talking openly about finances in people's daily lives.
"Like it or not, money is an essential part of life. It guides decisions about where we live, what car we drive, where we educate our kids, travel, eat…in short, just about everything. Yet people don't want to talk about it," Callahan adds.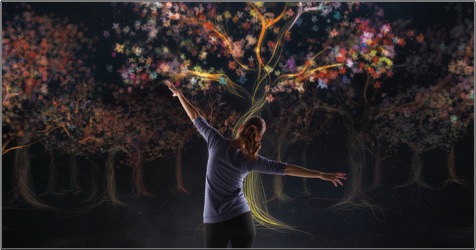 Umpqua is again challenging people to think about the topic of money, this time in an unconventional way—through art. It commissioned the talent of digital art agencies Fake Love from Brooklyn and The Mill whose Los Angeles team worked on the project. These teams produced the anchor of the exhibit: the dome.
Inside the dome, visitors choreograph their own experience of the event, that is then captured by motion-sensing technology to produce a visual expression of the visitor's movements. Each individual contribution is influenced by previous visitors to build a connective landscape.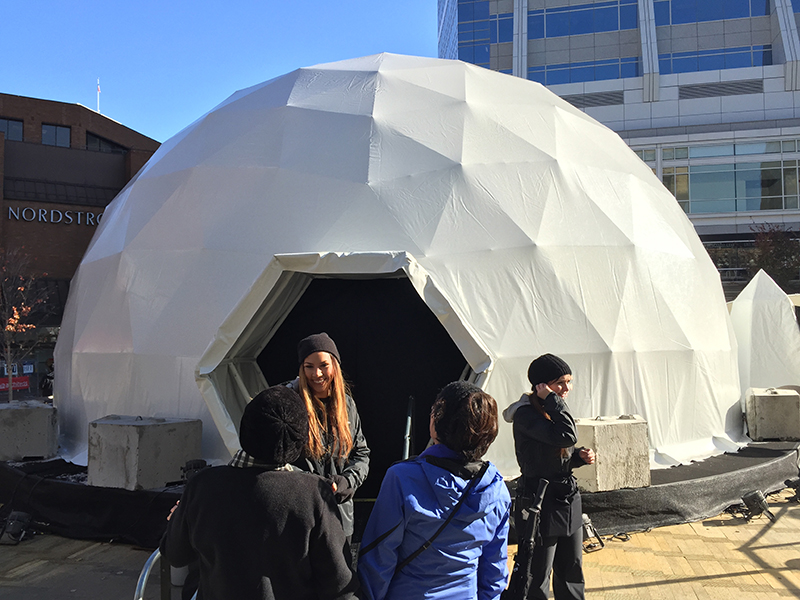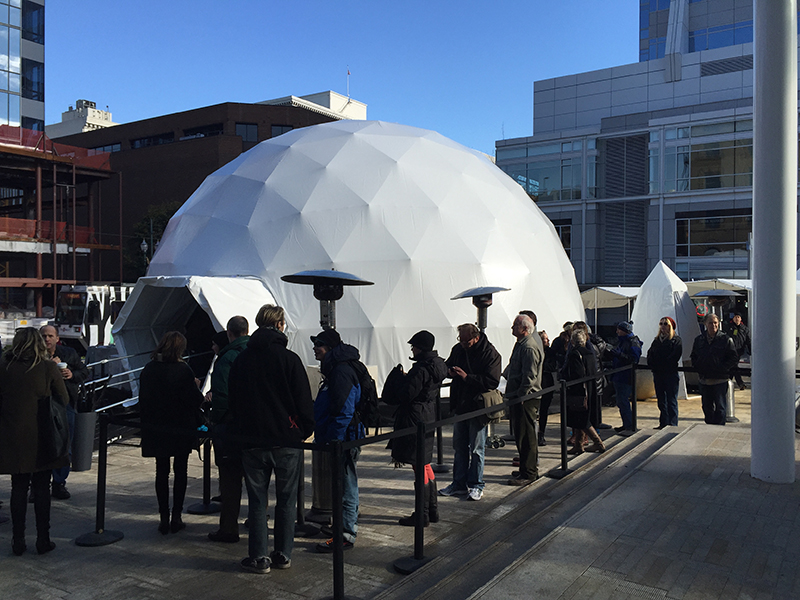 The exhibit explores the digital realm as well, allowing visitors to also produce a piece of digital art that is emailed to them. They can then share their artistic experience online using the hashtag #ExhibitGrowth.
"We believe artists have a unique ability to challenge people from all walks of life, to engage with an idea, with others, with themselves," says Callahan. The bank has tapped three Portland-based artists whose sculpture is installed at the exhibit to help create Exhibit: Growth.
Artist Blair Saxon-Hill's sculptural mise en abyme, a partially mirrored form of plexiglass, wood, and powder-coated steel, reflects back the sculpture itself as well as the the environment around it, including the viewer. According to Saxon-Hill, she uses her technique of examining "notions of perception and the 'thingness' of presence" to challenge the viewer's vision and sense of knowing, encouraging consideration of potentiality of form and of the infinite.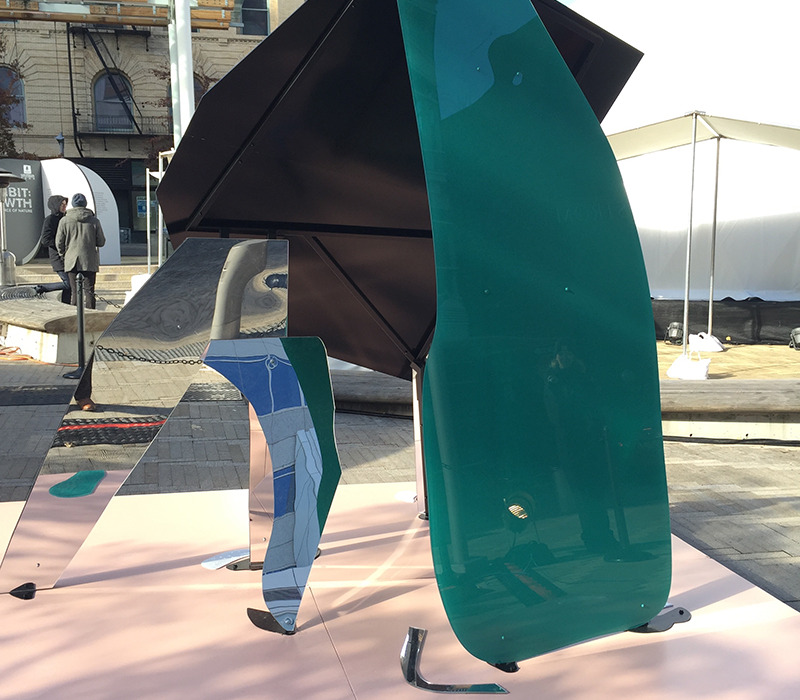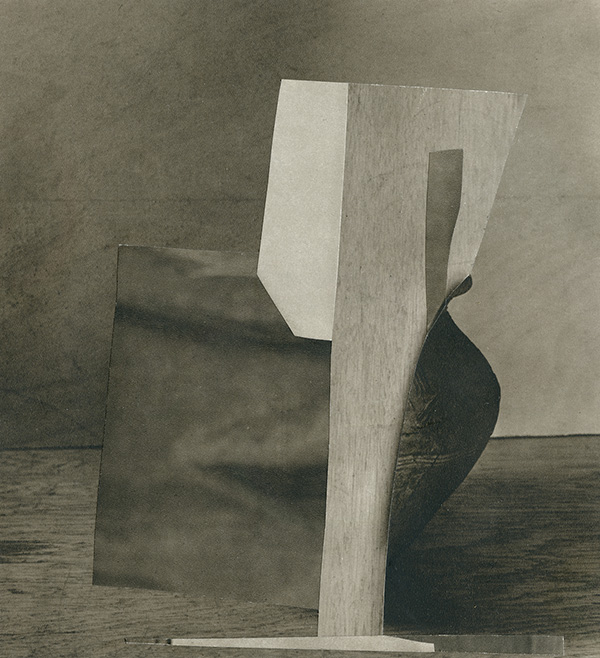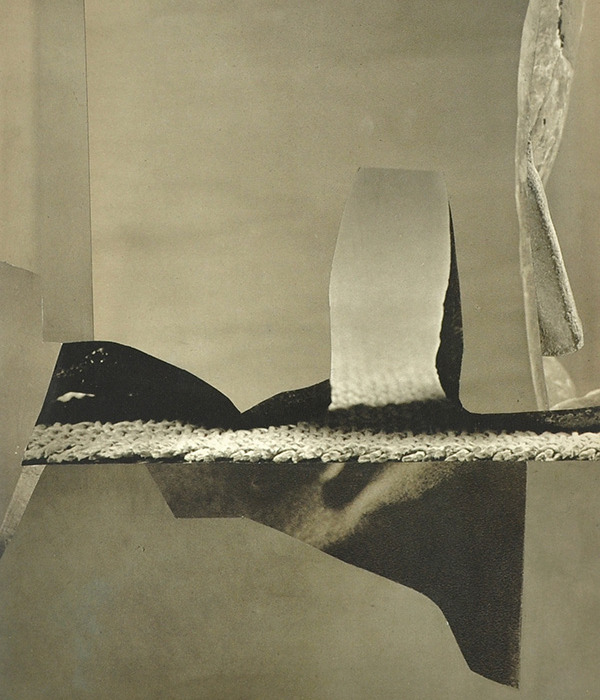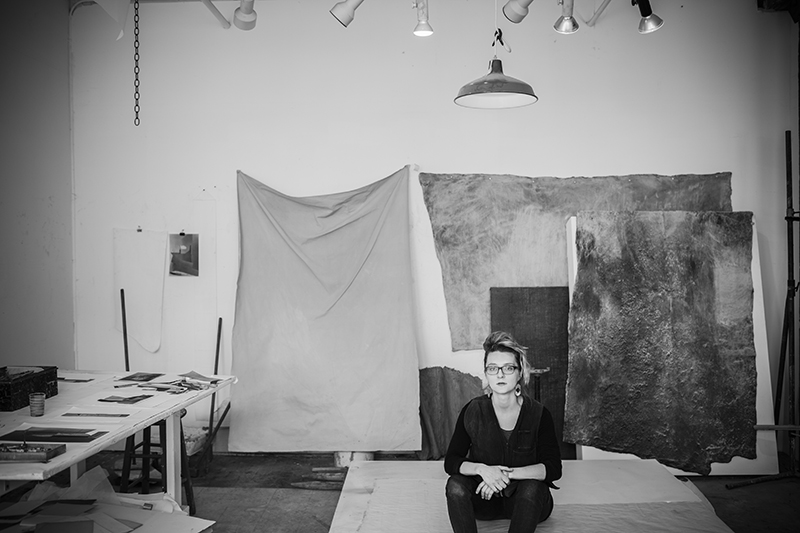 More of Saxon-Hill's work can be seen at the Schneider Museum of Art as part of Portland2014: A Biennial of Contemporary Art. In 2013, she received a Ford Family Foundation Golden Spot Award, an Oregon Arts Commission Grant, and was short-listed for the Henry Art Gallery's Brink Award. Saxon-Hill is co-owner of Monograph Bookwerks, an art, architecture, and design bookstore in Northeast Portland.
Artist Blaine Fontana has installed a mixed media sculpture titled Insular Potential for Exhibit: Growth. The sculpture portrays a cyclical concept using natural cedar bark, reclaimed wood, and an acrylic rendered phase. At the center is a living cedar tree. The piece depicts the growth of nature, the human assistance of that growth, and the potential to co-exist with nature without diminishing it.
"I'm buzzing with excitement and positive anticipation [for] the launch of Exhibit: Growth," says Fontana, who owns Fontana Studios on North Albina with his wife and creative partner, Eugenie.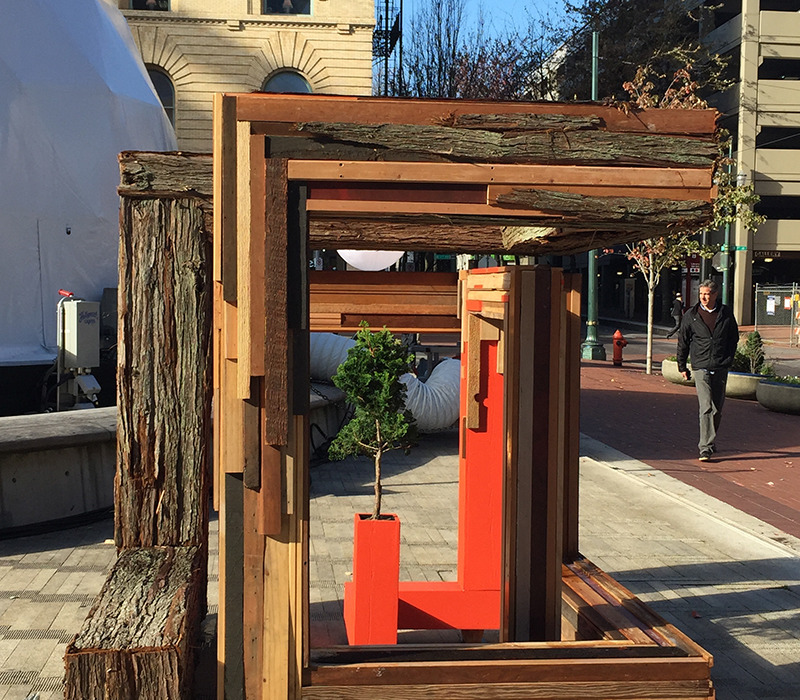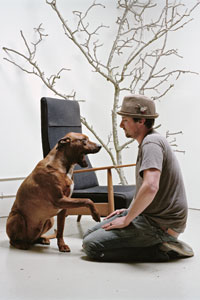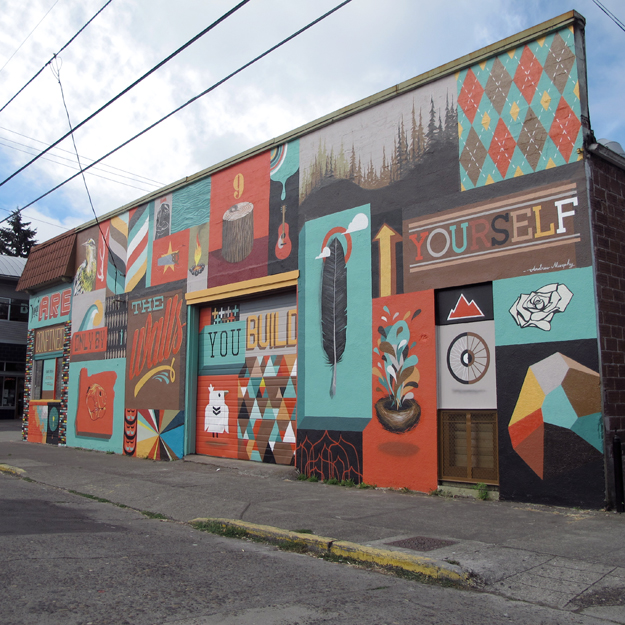 The Fontanas completed a mural on North Alberta recently for the Forest For the Trees project. On Nov. 22, they will take part in the Ride On PDX skateboard art show which benefits children's art workshops.
In January, after "years of requests, consulting, lectures, and a desire to share all our successful failures of a combined 20 years," the duo will launch Fontana Workshop. "We will be hosting a range of engaging small business tutorials, hands-on creative sessions, technical explorations, and essential ass-kicking inspirational workshops," says Fontana, of their new endeavor.
Aaron Rayburn, a cross-disciplinary design and art director from Oregon, works in fine art, graphic design, advertising, film, and photography. In 2011, Esquire named him as one of the top twelve designers in the U.S.
Rayburn's sculpture for Exhibit: Growth titled Old Growth Landbuilding, comprised of string, wood, nails, and acrylic, explores the foundations of growth, land building, and our origins. In his artist statement about the sculpture, Rayburn says "Growth is an incredible force. The elements of growth are all around us, we stand on them every day. The land we use to live out our lives came from somewhere and much of it grew from the beautiful process of magma pouring from cracks in the Earth's crust. This is a compelling insight for our species."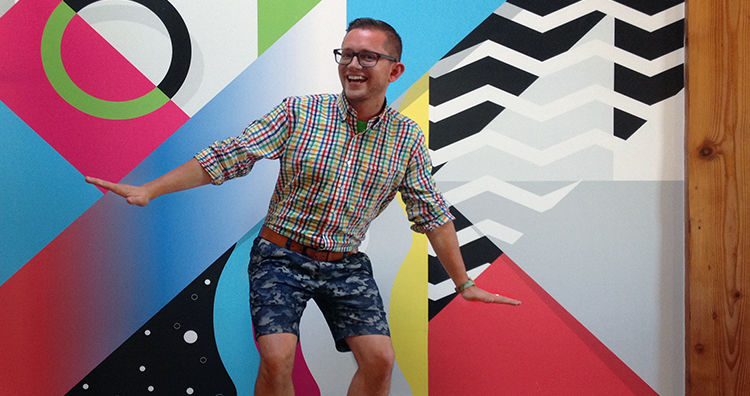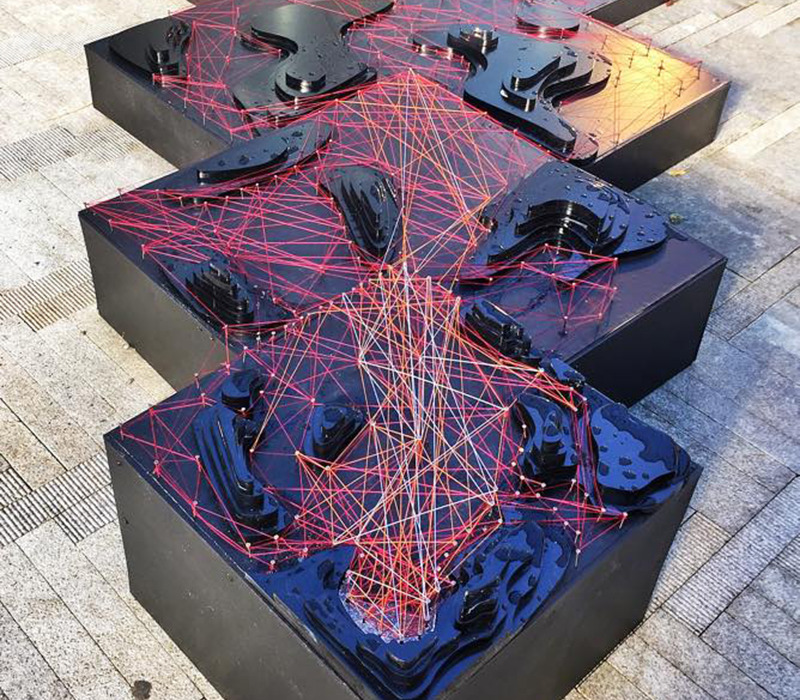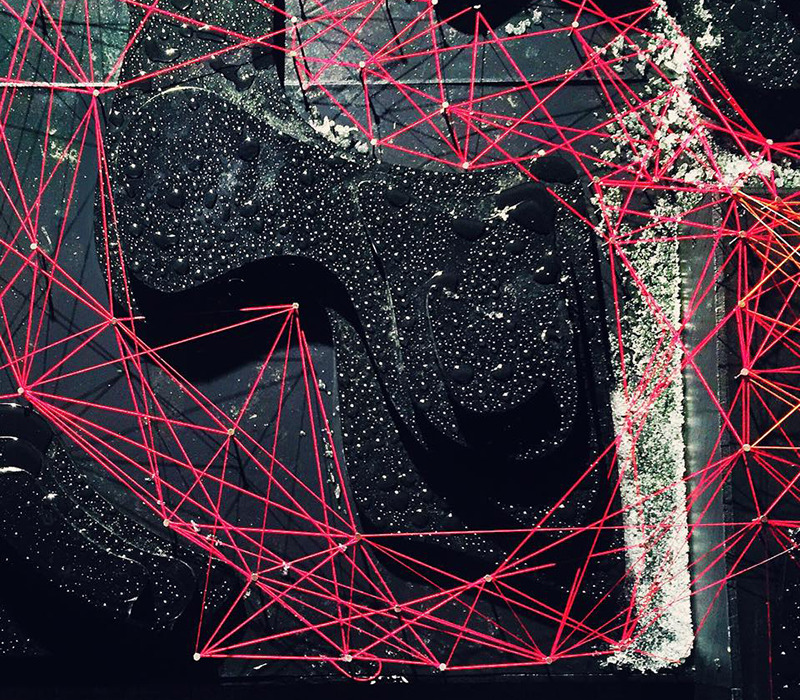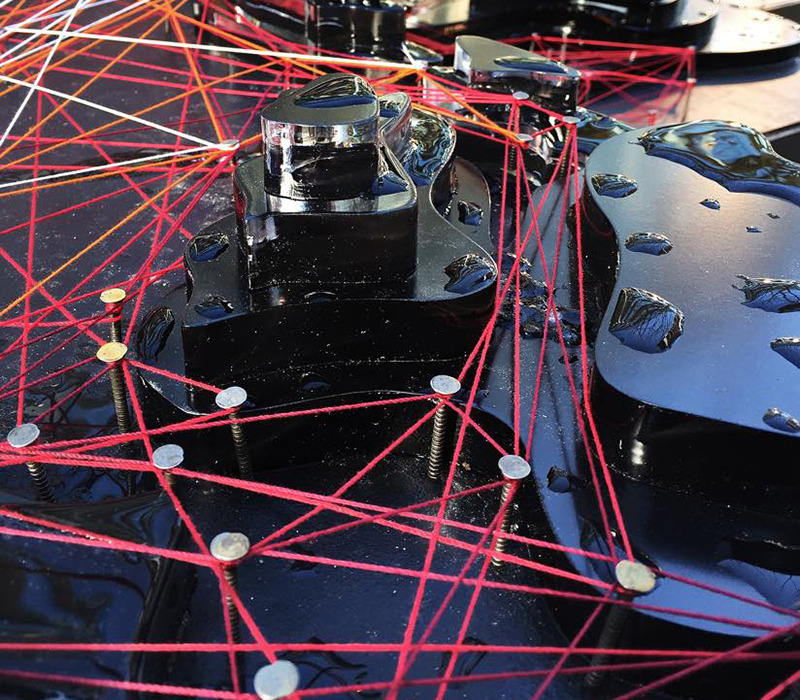 Exhibit: Growth is free and runs Nov. 14 to Nov. 23 at Director Park (815 SW Park Ave.) in Downtown Portland. It's open seven days a week from 11 a.m. to 9 p.m.
— Mary Locke
---
Full Disclosure: PDX Magazine owner and Editor-in-chief Ross Blanchard is an employee of Umpqua Bank in its technology division.